KWR held 2014 year-end summary meeting
---
Ltd. 2014 year-end summary meeting was held in the conference room on the second floor of Guangrun company, the meeting was hosted by the general manager Chen Mingfeng, the Finance Department, Trade Department, Logistics Department, Logistics Department and other department employees attended the meeting.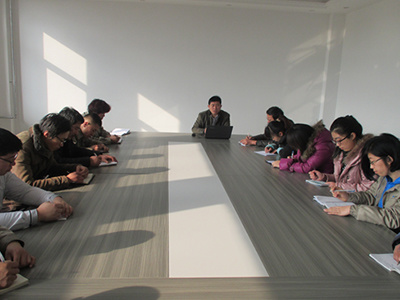 The meeting mainly reviewed the development history of Guangrun Company in the past year, from March 1, the start of construction, after seven months of intense construction, to October 6, the operation of the logistics warehouse, and then December 17, the finishing plant into production, all the way, everywhere condensed with the hard sweat of Guangrun people, and because of this, the company achieved the year of construction, the year of production, the year of profitability of Guangrun successful performance.
Mr. Chen said that the achievements of Guangrun are the result of the joint efforts of the cadres and workers, and he appreciated the efforts and support of all the staff in the past year. At the same time, Mr. Chen also conveyed the important content of the chairman's year-end speech to all the staff of the company, and shared the spirit of the meeting with everyone. Finally, Mr. Chen announced to everyone the development plan and economic target of Guang Run in 2015 and called on everyone to work hard together to reach the planned target in 2015.
The success of this meeting made all the employees of Guang Run Company clear the development goals of the company in 2015 and pointed out the direction for the smooth development of future work.