Training activity on "criticism and self-criticism" was held in Guangrun Company
---
In order to cultivate the professionalism of all the employees of Guangrun Company and continuously implement and improve the company's philosophy, Guangrun Company organized an internal training activity with the theme of "criticism and self-criticism" for all the employees in the afternoon of March 3.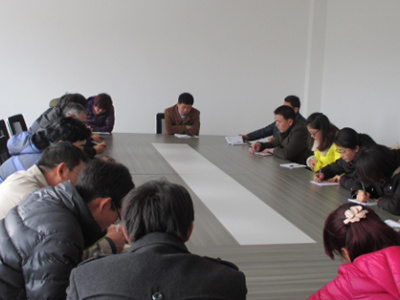 In this training activity, General Manager Chen Mingfeng proposed that all actions look at the results of the work concept, and asked each department to subdivide the work content, reasonable co-ordination of workload, and strive to maximize the effectiveness of work. Finally, General Manager Chen put forward three requirements for all employees: first, put the interests of the company in the first place, eliminate waste, malfeasance, and crack down on individuals or behaviors that undermine the interests of the company; second, do a good job of team building in Guang Run, establish the image of Guang Run, and do a regional benchmarking enterprise; third, determine the concept of Guang Run: thunder and lightning, excellence, chest, pioneering and innovative.
During the training activities, the staff of each department also made a review and reflection on the loopholes and deficiencies in the previous work, and all said that in 2015, they must actively respond to the call of Mr. Chen, and strive to implement the management concept of the company and realize the benefits of the company to make it bigger.
The successful implementation of this training activity not only made all the employees of the company have a more comprehensive understanding of the management concept of Guangrun, but also enhanced the sense of team responsibility of the employees and laid the foundation for the better development of Guangrun in the future.